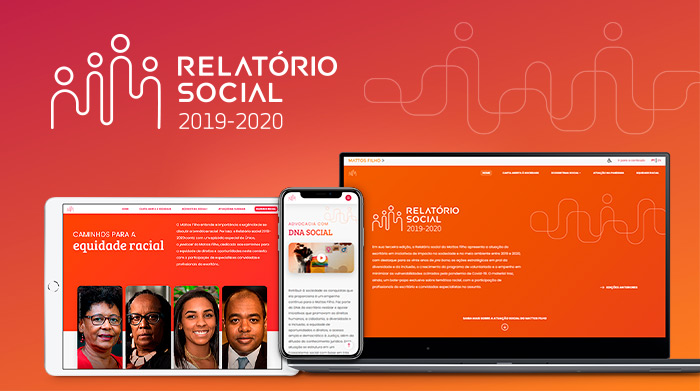 Institutional
Mattos Filho Social Report presents exclusive podcast with racial equality activists
Podcast mediated by managing partner Roberto Quiroga with further participation from members of Soma, the firm's affinity group for racial equity
Subjects
Mattos Filho has announced the publication of the third edition of its social report, providing an overview of the firm's social and environmental initiatives in 2019 and 2020. Given the current pandemic and social distancing scenario, it has been made available for access in both print and digital form. A hotsite has been developed specifically to host the digital report, and with a responsive and user-friendly design, readers can browse its content on any device.
One of the social report's highlights is an especially recorded podcast episode on racial equality. Managing partner Roberto Quiroga mediates a debate with two racial equality activists, philosopher Sueli Carneiro and psychologist Cida Bento, joined by Mattos Filho professionals Patrícia Soares and Vítor Macabu — who are also members of Soma, the firm's affinity group for racial equity. "The last two years have seen intense discussions on issues of race around the world, and there has also been important progress," said Quiroga. "With that said, there is still a long way to go, so with this podcast we have offered a space for the voices of those directly impacted to reverberate, with the aim of moving together towards a more just and equal society."
One of the report's chapters explicitly focuses on the impacts and consequences of the Covid-19 pandemic over the past year. The chapter summarizes Mattos Filho's actions and results in minimizing the vulnerability of certain social groups since the beginning of the crisis. The work carried out by the Mattos Filho 100% Pro bono practice area is also highlighted in the report – the area stepped in to help groups of people in need of legal assistance due to the inherent instability of the current scenario. The firm has been pioneering pro bono legal practice in Brazil for over twenty years, with an area exclusively dedicated to legal services in the public's interest.
Mattos Filho's Social Report is published every two years and provides information on the social initiatives undertaken by the firm. Previous editions of the report can be accessed at Mattos Filho's site.
About Soma
Established in 2018, Soma was the first affinity group focused on issues of racial equity and equality in the Brazilian legal market. The group discusses these issues and how they relate to the work environment to attract, develop and retain black professionals by offering them equal career opportunities. Integrated into Mattos Filho's Diversity and Inclusion Program, Soma strives to promote an even more inclusive and welcoming work environment for the firm's professionals. Mattos Filho is also the only Brazilian law firm with an affirmative action program for hiring black law students – Soma Talentos. The program offers participants classes in legal Portuguese and legal English, as well as mentoring and training in interpersonal skills.
*The summary of this article is available in Italian, Spanish and German at this link.