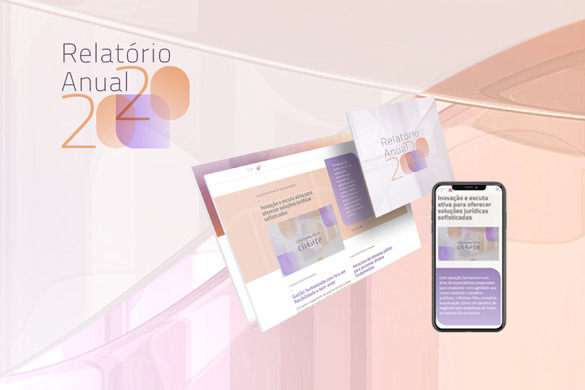 Institutional
Mattos Filho releases 11th Annual Report
The report outlines the firm's financial results, social initiatives and how Mattos Filho overcame the challenges posed by the Covid-19 pandemic
Subjects
​Mattos Filho has launched its 2020 Annual Report, presenting financial results and outlining a range of initiatives that the firm carried out last year. Having pioneered the disclosure of financial results, business initiatives and people management among law firms since 2011, Mattos Filho's 11th and latest edition of the report describes how the values of collaboration, perseverance and innovation helped to guide the firm through one of the most challenging periods society has faced in recent history.
The firm's strategy of placing clients at the center of decision-making, its collaborative, multidisciplinary culture, and its willingness to invest in new technology were fundamental in maintaining Mattos Filho's exemplary service, despite the obstacles that Covid-19 presented.
"The strength of our collaborative model stood out in the market during 2020. The firm quickly brought its multidisciplinary group of experts together for a clearer understanding of how the pandemic would impact companies across different sectors," explained Roberto Quiroga, Mattos Filho's managing partner. "Our output was coordinated, customized and comprehensive, allowing us to once again act as a business partner for our clients."
Mattos Filho's 2020 Annual Report also contains an exclusive podcast interview with renowned Zambian economist Dambisa Moyo, who discusses prospects for the post-pandemic world, and how countries and companies can resume economic growth. The podcast is contained within the digital version of the 2020 Annual Report, along with transcript of the interview available in both English and Portuguese.
The rapid adoption of a new technology-based structure that allowed the firm's employees — who also showed great flexibility in promptly reorganizing themselves — to continue their work from home.  To ensure Mattos Filho's standards of excellence were maintained, the firm's partners formed a multidisciplinary committee specifically to organize and allocate demands between practice areas, prioritizing tailor-made legal solutions for each client.
The launch of firm's ESG (Environmental, Social and Corporate Governance) practice was another highlight of 2020, reinforcing Mattos Filho's standing as a leading law firm. Indeed, Mattos Filho was the first firm to establish an exclusively dedicated ESG area, which has since gained even more relevance in light of the pandemic. Furthermore, the opening of Mattos Filho's office in the city of Campinas (São Paulo) represented another important step. It has expanded the firm's capacity to serve clients in different locations, especially in regard to Campinas' metropolitan area, which has significant strategic importance for the Brazilian economy.
Promoting essential rights 
However, achievements during the year were not merely restricted to business. Mattos Filho's social initiatives gained further relevance during the pandemic, including the expansion of pro bono services to civil society organizations and socially vulnerable individuals. Meanwhile, programs for volunteering, diversity and inclusion were also strengthened.
Acting in the public's interest by encouraging solidarity and promoting human rights, the office contributed to social initiatives during the pandemic. These included a partnership with other large companies known as the Movimento #2em2 ('#2in2 Movement'), which has sought to expand coronavirus testing and provide legal support for a platform offering low-cost mask sales.
For Roberto Quiroga, 2020 presented a series of important lessons and reinforced Mattos Filho's strategic long-term vision. "We know that complicated times still lie ahead. Therefore, we will follow our long-term vision of fostering innovation and entrepreneurship, investing in opportunities for our professionals, putting our clients at the core of our decision-making, and acting as transformative agents of the change we strive to see in society," he added.
2020 highlights in numbers 
Nearly 7% growth in the number of partners and 6% in general staff;
An 11.5% increase in the numbers of interns and trainees;
Over 1,200 professionals working remotely and over 1,300 law books made available in digital format to assist partners and lawyers in their work;
Over 4,000 hours dedicated to projects seeking to minimize the pandemic's impacts;
Over 120,000 hours dedicated to pro bono legal service.