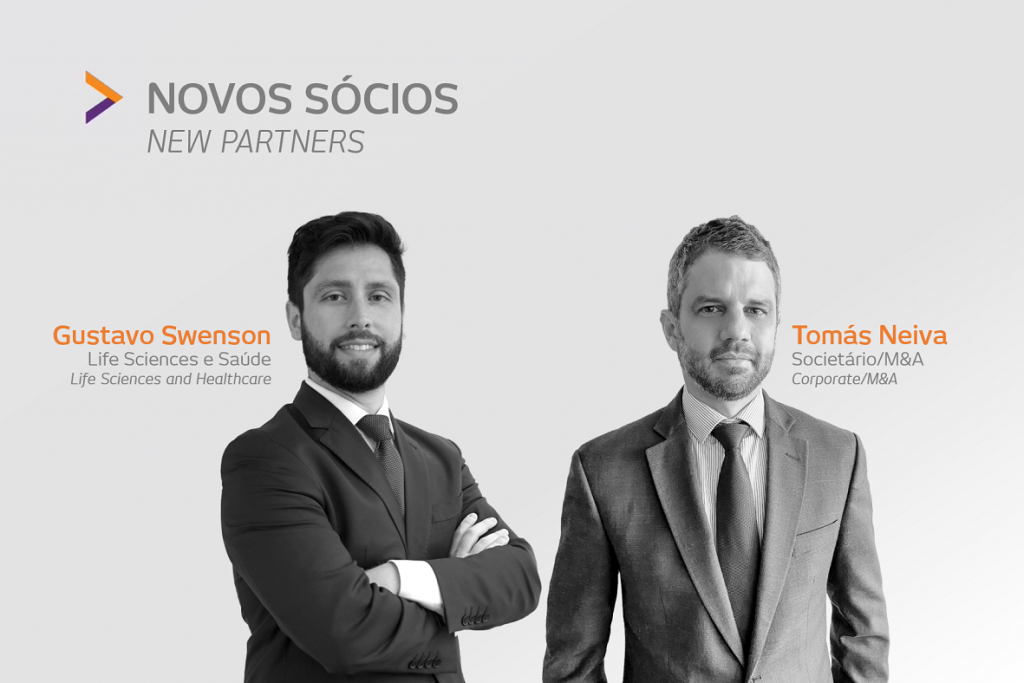 Institutional
Two new partners join Mattos Filho's Corporate/M&A and Life Sciences & Healthcare practice areas
With the arrival of Tomás Neiva and Gustavo Swenson, the firm now has a total of 119 partners
Mattos Filho has announced that Tomás Neiva (Corporate/M&A) and Gustavo Swenson (Life Sciences and Healthcare) have been admitted as the firm's newest partners. With both based at the São Paulo office, Tomás and Gustavo's arrival underlines Mattos Filho's commitment to continued, sustainable growth. The total number of partners at the firm now reaches 119.
The new partners will add to the excellent work their practice areas carry out together with the other areas of the firm, extending Mattos Filho's hallmark full-service capability.
"As the M&A and Life Sciences sectors are currently experiencing significant growth, we are strategically focusing on these and other areas to ensure we can offer legal solutions for any demand. The arrival of Tomás and Gustavo serves to corroborate the excellent legal service we provide to both domestic and foreign clients, as we focus on areas with potential for business growth and development," said the firm's managing partner, Roberto Quiroga.
Life Sciences and Healthcare: high potential for growth
Working with transactional, regulatory and intellectual property issues related to the Life Sciences, Health, Food, Technology and Biotechnology industries, Gustavo Swenson joins the office at a time when the sector has undergone significant growth driven by technological advancements and regulatory changes stemming from the pandemic.
Mattos Filho's Life Sciences and Healthcare practice has doubled in size since it was first established in 2018. This year, it has been recognized by two very highly renowned legal institutions, Chambers Brazil and The Legal 500. Swenson will further strengthen the Life Sciences and Healthcare practice area in strategic areas involving pharmaceutical companies, medical devices, laboratories, healthcare operators and health techs.
"Mattos Filho offers a model of legal practice that I believe in, both in terms of client service and how it values and manages its people. Besides joining a robust and growing practice area, I am motivated by the firm's visibility, structure and the platform it offers to its professionals, which few others in the market are capable of. Combined with the outstanding team and the high level of services offered, these factors had a decisive impact in inspiring me to become part of the firm," explained Swenson.
The new Life Sciences and Healthcare partner holds a Master's degree from George Washington University and a postgraduate degree in Intellectual Property and Technology Law. Swenson also has specialist qualifications in Public Procurements and Administrative Contracts from Fundação Getulio Vargas and a degree in Law from São Paulo's Pontifical Catholic University.
M&A market on the rise
According to the Transaction Track Record (TTR), from January to July this year, the Brazilian market registered 1,169 M&A transactions, worth a combined BRL 285 billion. This figure represents a striking 50% increase in the number of transactions carried out during the same period last year. As of July 2021, Mattos Filho is leading the TTR rankings in the M&A, Private Equity, Venture Capital and Capital Markets categories in terms of transaction values.
With extensive experience in cross-border transactions, Tomás Neiva will contribute to the firm with his knowledge in advising companies from a range of sectors in their investment projects, especially foreign ones involving M&A, venture capital, and structured finance transactions.
"Mattos Filho's Corporate/M&A practice is already a leader in the Brazilian market, and my main role will be to unite the team's efforts to ensure the firm maintains its prominent position in the long term. I believe my diverse professional experience and international profile will allow me to make valuable contributions to the firm's different practice areas, as well as to clients," said Neiva.
Holding a Master's in Business Law from São Paulo's Fundação Getulio Vargas and a Master in Corporate Law from the Universidad de Alcalá in Spain, Neiva graduated in Law from Rio de Janeiro's Pontifical Catholic University. He also teaches corporate law within Insper's Startup Law course, XPEED's MBA in Exponential Management, as well as BITS Academy's Corporate Practice course.
*The summary of this article is available in Spanish and German at this link.