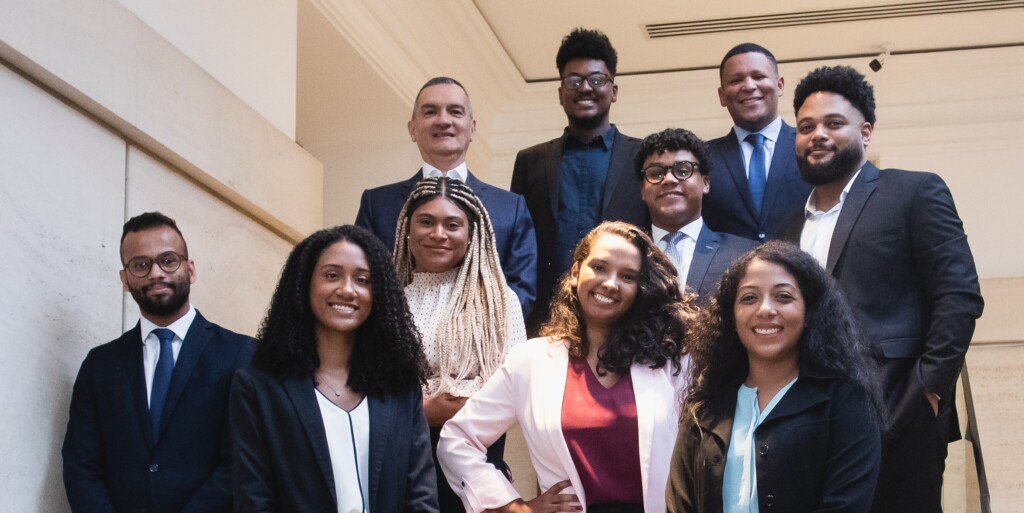 Institutional
Unprecedented hiring initiative sees Mattos Filho increase hires of black lawyers
Professionals from Mattos Filho's Soma Talentos program join seven different practices across the firm
Subjects
Mattos Filho has hired nine more black lawyers as part of the 4th edition of its Soma Talentos program, a pioneering initiative in Brazil's legal sector. Soma Talentos is an affirmative action initiative within the firm's Diversity, Equity and Inclusion Program, which has evolved over the last three years from an internship program exclusively for black law students to one that hires black lawyers.
The new professionals have joined the teams of seven of the firm's practice areas – Litigation & Arbitration, Environmental Law & Climate Change, Asset Management Services & Investment Funds, Real Estate, Intellectual Property, and Labor & Employment – and are based at Mattos Filho's Rio de Janeiro, Brasília, and São Paulo offices. In addition to these recruits, Mattos Filho hired a further eleven black law students as interns, resulting in a total of 20 hires via the Soma Talentos program this year.
"As a black woman, participating in Soma Talentos was very important to me. First, because of the firm's importance and reputation. Second, for what it represents, as being part of the first group of lawyers hired through the program is very significant," highlighted Laiane Santos, a lawyer in the firm's Litigation & Arbitration practice and member of the latest group of Soma Talentos.
With the launch of Soma Talentos in 2019, Mattos Filho became the first Brazilian full-service firm with an affirmative action initiative directed at hiring black professionals. It is currently the only full-service firm in Brazil with such an initiative. "Promoting diversity and inclusion is at the heart of our strategy to attract, retain and develop diverse talent, in addition to ensuring the long-term success of our business," noted Roberto Quiroga, Mattos Filho's managing partner.
Training and mentoring for professionals
Soma Talentos is an affirmative action program led by Soma, the affinity group for racial equity within Mattos Filho's Diversity, Equity and Inclusion Program. Now in its fourth year, the program has significantly impacted constructive discussions about racial equity in the workplace. Professionals hired through Soma Talentos are supported with English classes, a specific professional development path, mentorship sessions, and also have the chance to participate in thematic meetings.
Caio Borba, one of the lawyers hired from the latest group, and now a member of the Intellectual Property practice, also commented on the importance of the program. "Soma Talentos provides a gateway to joining a firm that promotes diversity. I feel that being part of an organization like Mattos Filho is really rewarding."
Event welcomes new hires and highlights racial empowerment
On July 4, Soma Talentos held an event to welcome the new lawyers at Fundação Getulio Vargas (FGV), one of Brazil's leading universities. The event was attended by former graduates of the program, and featured group activities and a lecture by the black lawyer Alessandra Benedito – who also works as a consultant on inclusion and diversity management strategies and is a professor and coordinator of diversity initiatives at FGV's School of Law in São Paulo. Alessandra spoke about empowerment, the challenges and opportunities for racial inclusion programs, and the future of work. "The comments from the former graduates and the dreams of the new participants showed what makes Soma special – the belief in the worth of working toward genuine transformation, and doing so transparently," said Alessandra.
According to the Legal Alliance for Racial Equity (Aliança Jurídica pela Equidade Racial) – an initiative formed by twelve of Brazil's largest law firms – the number of black professionals working in large Brazilian law firms is on the rise. Conducted in partnership with consultuancy Diversidade Corporativa and NGO Centro de Estudos das Relações de Trabalho e Desigualdades (Ceert), the alliance's 2021 Diversity Census revealed that 11% of the legal professionals who work at the firms that make up the alliance are black. In 2019, black professionals represented less than 1% of the nine participating firms at the time. The firms currently participating in Aliança Jurídica are BMA, Cescon Barrieu, Demarest, Felsberg, Lefosse, Machado Meyer, Mattos Filho, Pinheiro Neto, Stocche Forbes, Trench Rossi Watanabe, Tozzini Freire and Veirano.