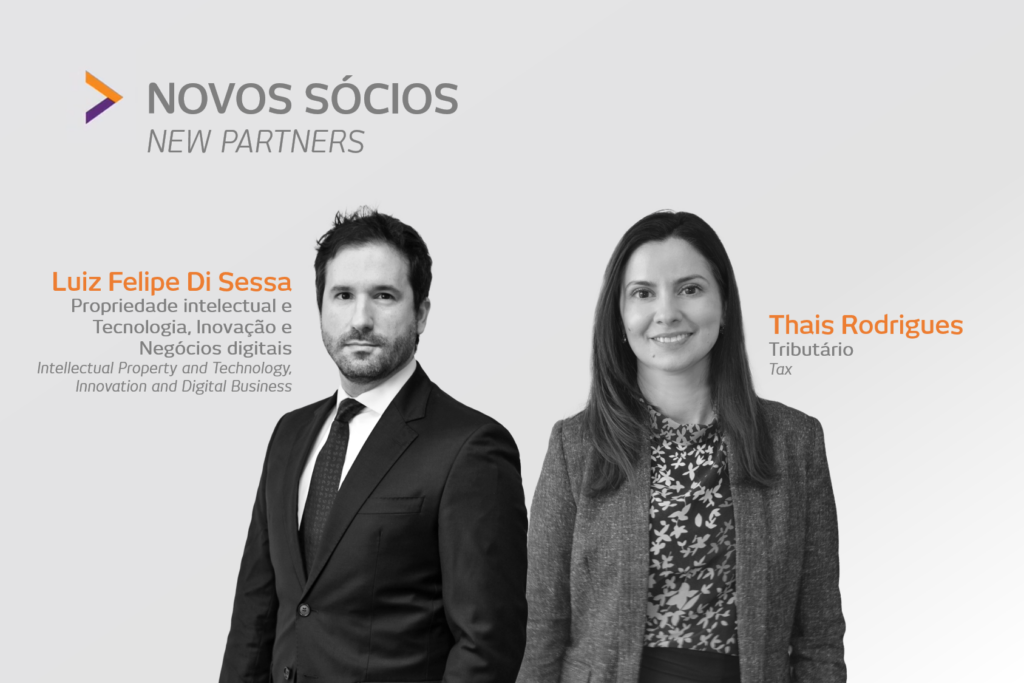 Institutional
Mattos Filho announces new partners in Tax, Intellectual Property and Technology practices
Thais Rodrigues and Luiz Felipe Di Sessa set to support expansion of the firm's work across strategic sectors with potential for growth
Mattos Filho has announced the arrival of two new partners, Thais Rodrigues and Luiz Felipe Di Sessa. Thais joins the firm's Tax practice and will be based in Rio de Janeiro, while Luiz Felipe, working from São Paulo, joins both the Intellectual Property and Technology, Innovation & Digital Business practice areas. Mattos Filho now has a total of 121 partners.
The new partners reinforce Mattos Filho's ongoing commitment to strategic service in tax, technology and intellectual property matters. Thais and Luiz Felipe will add their expertise to the work of their respective practice areas, in coordination with the firm's other areas.
"Thais and Luiz Felipe's arrival serves to bolster our strategy of following market trends and planning for continuous, sustainable growth. Their expertise will allow us to expand our activity across a number of important sectors, as well as further elevate the excellence we provide in our services to local and international clients," affirmed Roberto Quiroga, Mattos Filho's managing partner.
Expanded tax practice in Rio de Janeiro  
A specialist in direct taxation with an extensive background in cross-border transactions, Thais will reinforce the work the firm's Tax practice already carries out in Rio de Janeiro. Holding a law degree from the Universidade Estadual do Rio de Janeiro (UERJ), Thais works in tax advisory, tax planning, restructuring, M&A and foreign investment, and has significant experience working with the energy and oil & gas sectors.
"Mattos Filho is renowned both in the tax sector and in the legal market as a whole, especially for the excellent service it offers its clients. I am delighted to join the firm and contribute to the practice's development of innovative solutions," said Thais.
Technology and intellectual property as a business strategy  
Whether in terms of data protection, cybersecurity or next-generation demands – such as artificial intelligence, cryptocurrency, and the Internet of Things (IoT) – the technology and intellectual property sectors have been gaining increasing importance in the market. Luiz Felipe's arrival is set to enhance Mattos Filho's high-performance service in these areas.
"The firm is at the forefront in regard to technology and remains in constant discussion with its clients on strategic issues in the sector. My mission is to add to the great work already being carried out in the firm's practices, offering new ideas to ensure we always provide the best service to our clients," stated Luiz Felipe.
A law graduate from Pontifícia Universidade Católica (PUC), Luiz Felipe holds a postgratuate degree in Intellectual Property from Escola Superior de Advocacia (ESA), as well as an LL.M. in Intellectual Property from the World Intellectual Property Organization (WIPO) and Italy's Università degli Studi di Torino.