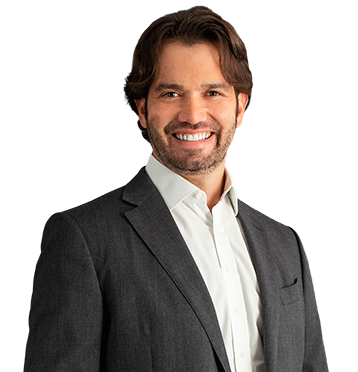 +55 11 3147 7840
joao.cavalcanti@mattosfilho.com.br
São Paulo – Paulista
Areas of expertise
Experience
​João advises local and international clients – including private equity funds and publicly traded companies – on corporate and contractual matters, such as M&A, joint venture, divestment, and corporate restructuring and advice. With expertise in many fields, he focuses his practice on health and life sciences areas. João is licensed to practice law in Spain, and is a member of the Colegio de Abogados de Barcelona and the Council of the Bars and Law Societies of the European Union.
He previously lived in Barcelona for almost five years, working at a Big Four company, a multinational energy company and two of Spain's most renowned law firms. João is also one of the coordinators of Mattos Filho's multidisciplinary groups for Spain, Portugal and Latin America.
Education
Bachelor of Laws, Faculdade de Direito de Recife (UFPE)
Master's degree in Tax Law – Universidad de Barcelona
Master's degree in International Business Law – ESADE Law and Business School, Barcelona
Único. The Mattos Filho news portal
Mattos Filho in the media
Sector salud
08/06/2017 19:37 horas
Por João Marcelino Cavalcanti Júnior y Maria Fernanda de Almeida Prado e Silva – Mattos Filho Advogados
Las actividades de importación y distribución de medicamentos y productos sanitarios en Brasil están bajo la supervisión de la Agencia Nacional de Vigilancia Sanitaria y sujetas a su previa autorización.
El conturbado momento político de Brasil y que no se sepa quién completará la presente legislatura ocupando la presidencia del país, no afecta el hecho de que Brasil es y seguirá siendo uno los de mayores mercados consumidores del mundo y que la industria farmacéutica ha evolucionado bastante en el país, beneficiándose del envejecimiento y del aumento de los ingresos de la población, así como del incremento de los gastos público y privado en el sector de la salud.
Aunque varias multinacionales ya estén establecidas en Brasil, todavía hay muchas empresas que buscan el acceso a este mercado en expansión a través de la venta por medio de distribuidores locales, sin tener que establecer una presencia física en el país.
Es lugar-común que las empresas españolas saben mejor que nadie como sacar provecho de los momentos de crisis. Así que expondremos a continuación un resumen de parte de las principales cuestiones contractuales a tener en cuenta a la hora de distribuir productos sanitarios al gigante latinoamericano, independiente de quien sea el presidente de gobierno.
Las actividades de importación y distribución de medicamentos y productos sanitarios en Brasil están bajo la supervisión de la Agencia Nacional de Vigilancia Sanitaria ("Anvisa") y sujetas a su previa autorización. Las empresas extranjeras que deseen acceder al mercado local para la comercialización de sus productos sin tener una filial en Brasil deben contratar un importador/distribuidor local que esté debidamente registrado y autorizado para realizar dichas actividades por la Anvisa. Por lo tanto, serán muy importantes para el contrato las disposiciones sobre la terminación, transferencia o cancelación del registro del producto, su uso por parte del importador/distribuidor son esenciales para el contrato de distribución.
En el año pasado se produjo un cambio importante en la normativa sobre la transferencia de titularidad del registro de productos sujetos al control sanitario. Desde el 23 de diciembre de 2016, cuando entró en vigor la resolución Anvisa 102/2016, se puede transferir la titularidad de dichos registros también en operaciones comerciales (antes sólo se permitía la transferencia en casos de sucesión o por operaciones societarias, como fusión, escisión, incorporación). Esta nueva resolución facilitará el proceso de sustitución de importadores y distribuidores, que por la normativa anterior exigía un largo procedimiento de cancelación del registro seguida de nueva petición.
Otra previsión legal que protege a los consumidores pero pone en jaque al fabricante, importador y distribuidor es la responsabilidad solidaria objetiva por el producto en el territorio nacional. Así que establecer contractualmente una regla responsabilidad distinta entre ellos (frente a terceros) será esencial.
Una de las disposiciones contractuales más importantes (tanto para fabricantes como distribuidores), la exclusividad, está permitida, aunque no haya una posición establecida, toda vez que los acuerdos de exclusividad pueden caracterizarse como abuso de posición de dominio según las circunstancias particulares del caso. Así que es necesario un análisis detallado de las reglas de exclusividad que se pretenden establecer en el caso concreto con el fin de verificar si generan o no efectos contrarios a las normas de la competencia.
Por lo que respecta a los precios, de acuerdo con las normas de competencia en Brasil, la imposición de precios de reventa, descuentos, condiciones de pago, volúmenes mínimos o máximos, márgenes de ganancia u otras condiciones de comercialización puede (según el caso) constituir una violación del orden económico, independientemente de haber sido un acto culposo. Por lo tanto, también debe realizarse un análisis detallado desde la perspectiva del derecho de la competencia al negociar dichas cláusulas.
Por fin, así como pueden ser múltiples las razones por las que se rescinde unilateralmente un contrato de distribución, también son distintas las consecuencias de su rescisión, en función del plazo del contrato (definido o indefinido) y de las razones (o su ausencia) que dieron lugar a la rescisión contractual, que deben examinarse caso por caso. Sin embargo, es importante destacar que, de acuerdo con el Código Civil de Brasil, la rescisión unilateral de un contrato a plazo indefinido sólo producirá efectos después de un período mínimo que sea compatible con las inversiones realizadas por una de las partes para la ejecución del contrato.
Areas of expertise
Stay in touch
Get first-hand access to legal analysis from our specialists in different sectors through texts and podcasts. Stay on top of the main issues that impact your business.