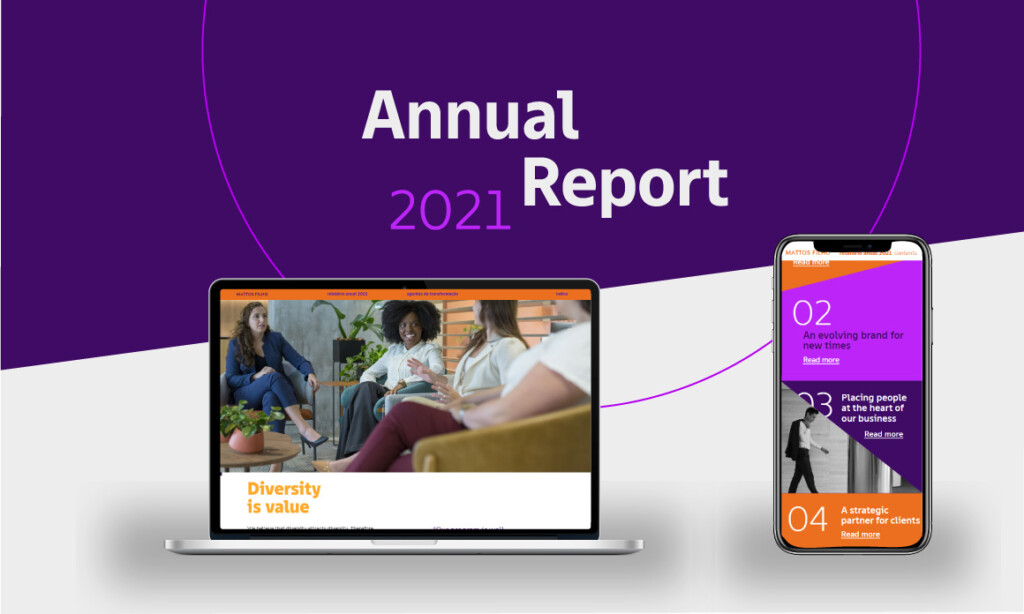 Institutional
Mattos Filho's 2021 Annual Report highlights firm's role in Brazilian legal sector evolution
Latest edition highlights firm's financial results, new brand positioning, social and people management initiatives, and its objectives and commitments for the next 30 years
Subjects
Mattos Filho releases its 2021 Annual Report today, outlining its new, innovative brand positioning and commitment to positively impacting Brazil through legal work. Now in its twelfth edition, the report highlights the firm's new visual and verbal identity and its efforts to stimulate business, improve society and expand access to justice. The firm's financial results for 2021 are also included – Mattos Filho remains the only full-service Brazilian law firm to release information on its gross annual revenue, similar to many of the largest law firms in the United States and Europe.
Now in its thirtieth year, Mattos Filho has shifted its focus to the future, looking to practice law in ways that benefit both the market and society. "We have arrived to the conclusion that practicing law is a means to achieve our purpose, an important tool for overcoming barriers and positively impacting everyone around us. We want to lead by example and inspire new attitudes within the legal sector that favor greater social equity and justice," said Roberto Quiroga, Mattos Filho's Managing Partner.
The 2021 Annual Report features a timeline of the firm's history and details the firm's new brand positioning project – "Our Next 30 Years" – which was launched at the beginning of May 2022. The project involved the expertise of global brand consultancy Interbrand, as well as advertising agency Africa, which was responsible for the firm's commemorative advertising campaign.
The report also includes a conversation between the firm's founding partners – Ary Oswaldo Mattos Filho, Otávio Veiga Filho, Pedro Marrey and Roberto Quiroga, in which they discuss the firm's history and the direction they expect Mattos Filho to head in over the next 30 years. Available in video and podcast formats, this conversation is mediated by Ive Lima, Mattos Filho's Communication and Marketing Officer. The report also features an interview with special guest Manfredi Ricca, Global Chief Strategy Officer at Interbrand, who explains how companies can realize their potential for driving transformation both in their own fields and beyond.
A high-performance legal brand
In a year that saw society continue to face the challenges of the Covid-19 pandemic, Mattos Filho maintained its focus on high performance, excellence and its deeply ingrained collaborative culture.  "These factors were key to our ability to provide agile, innovative solutions and ensured clients continued to see us as a leading firm and strategic partner," explained Quiroga.
The dedication and commitment of Mattos Filho's professionals were also fundamental to the firm's growth. In 2021, Mattos Filho stood out in the legal market for implementing its hybrid work model and a series of other initiatives based on flexibility, efficiency and well-being. "We believe that humanized approach to management and ensuring day-to-day work-life balance are essential for personal and professional development," highlighted Quiroga.
Positive social impact
In 2021, transforming the relationship between the legal sector and society was also at the core of Mattos Filho's strategy. A pioneer of pro bono legal work in Brazil, Mattos Filho dedicated more than 20,000 hours to pro bono services for more than 290 clients in 2021 alone. The firm's leading position in this movement was also supported by its Diversity, Equity & Inclusion Program, which promoted several actions and partnerships to ensure an even more inclusive and welcoming work environment for Mattos Filho's professionals. These actions serve to demonstrate the firm's commitment to attracting, developing and retaining the best talent in the market and driving social transformation.
All the interviews and information from the Annual Report are available via this link.
2021 Highlights 
An 18.5% increase in the number of professionals;
A 10.2% increase in the number of partners;
Over 20,000 hours dedicated to pro bono legal work.