Partner
Anderson Jardim D'Avila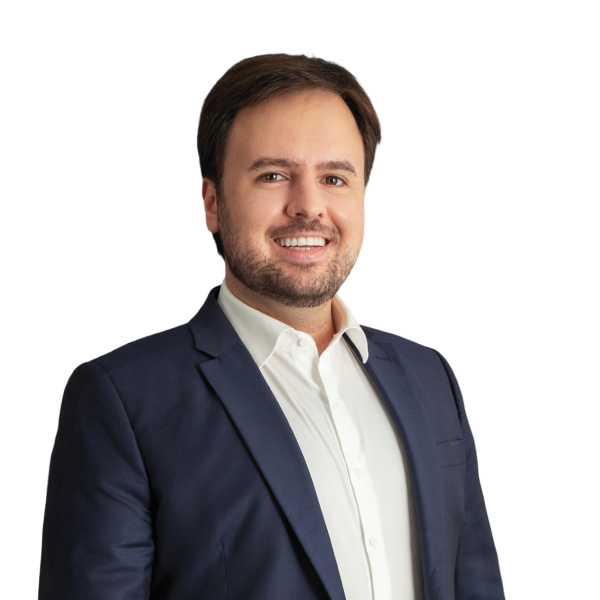 55 11 3147 2608
anderson.davila@mattosfilho.com.br
São Paulo – Paulista
Areas of expertise
Experience
Anderson works with corporate, M&A and joint venture matters involving local and international clients, including publicly traded companies and private equity funds. He also assists with corporate governance, corporate reorganization and trade agreements. Anderson was previously an international lawyer at Slaughter and May in London.
Education
Bachelor of Laws – Pontifícia Universidade Católica do Rio Grande do Sul (PUC-RS) Specialization in Corporate Law – Universidade Federal do Rio Grande do Sul (UFRGS)
Specialization in International Private Law – The Hague Academy of International Law (Holanda)
LL.M – University of Virginia School of Law (EUA)
Mattos Filho in the media
With Anderson Jardim D'Avila
Areas of expertise
​On December 13, 2018, Provisional Measure No. 863 ("PM") was published in the official gazette, amending Federal Law No. 7,565/1986 (the "Brazilian Aeronautics Code") and eliminating the limit for foreign ownership in companies holding concessions for public aviation services. Prior to publication of the PM, the maximum equity ownership by foreign companies was limited to 20% per cent. of the voting capital of such companies (Article 181, section II of the Brazilian Aeronautics Code, now revoked). 
Pursuant to the PM, a concession or authorization to provide public aviation services may be granted to any entity constituted under Brazilian law, with headquarters and administration located in Brazil and with no restrictions as to its corporate type, division of capital or administration.

Furthermore, the PM also revokes provisions that required authorization from ANAC (the National Civil Aviation Agency) for certain corporate transactions, such as, a transfer of 2% of the corporate capital of companies holding concessions for public aviation services (Article 185, Paragraph 2, Sections II and III of the Brazilian Aeronautics Code, also revoked by the PM).

The PM, which eases the entry of international investors into the Brazilian aviation market will remain in effect for 60 days, renewable for another 60-day period. In order not to lose its effectiveness, the PM must be converted into law following approval by both the Chamber of Deputies and the Senate, and, after that, should there be modifications to its original text by the Congress, the PM must be submitted to the President for approval. 

Finally, please note that on March 1, 2016, the Presidency approved Provisional Measure No. 714, which increased from 20% to 49% the limit for foreign ownership in Brazilian aviation companies. However, these changes were vetoed at the time and not incorporated into the Brazilian legal system.

The PM, in Portuguese only, is available in electronic format and can be accessed through this link.
Areas of expertise
On June 26, 2018, the Brazilian President ratified, by means of Decree No. 9,423, an agreement between the governments of Brazil and the United States regarding air transportation, known as "Open skies".

The agreement was initially signed on March 19, 2011 by former presidents Barack Obama and Dilma Rousseff. However, its ratification was prolonged for more than 7 years, mainly due to conflicts of interests regarding potential benefits that could be generated by the agreement and political issues involving the two countries.

The "Open skies" agreement between Brazil and the United States seeks to expand international air transportation options between the two countries, stimulating competitiveness amongst each country's airlines while reducing regulations and governmental interference. In this regard, the agreement seeks to simplify procedures for airlines in relation to air transportation between these countries.

In the past, in order for a foreign airline to operate in Brazil, it had to be designated by its government through diplomatic means and obtain authorization to be established in Brazil and operate air services, by filing an administrative proceeding with the National Aviation Agency Civil – ANAC.

Under the open skies agreement, the two countries will be able to quickly grant the appropriate operating authorization and permission, as long as certain minimum requirements are met by the airlines, including the obligations with respect to qualification and operational safety standards.

The agreement also stands out as it puts an end to the current limit of 301 weekly round trip flights between Brazil and the United States. As a result, it is expected that the agreement will lead to an increase in the number of flights between both countries and an increase in the market for international air services, with indirect benefits for different sectors of the economy. 

In addition, the agreement establishes important provisions relating to the conversion of foreign currency and remittances abroad of revenues by airlines with certain tax-exemptions, tax exemptions for items brought in the aircraft for use in the operation or servicing of the aircraft and, possibility of review of tariffs and safety standards.  

It is also expected that, with the ratification of the agreement, new business will be generated between Brazilian and American airlines, such as the joint business agreement entered into between LATAM and American Airlines for ticket sales and flight coordination, which was approved by the Brazilian antitrust authority – CADE and is currently awaiting approval by the United States Department of Transportation.
It should be noted that air transport by "cabotage" remains prohibited. In other words, an airline from either Brazil or US is not permitted to operate flights departing and arriving within the other's territory. Furthermore, the agreement did not modify the current limitation on foreign investment in the sector and the maximum equity interest permitted by a foreign investor in a Brazilian airline remains at 20% of the voting capital.

Finally, due to authorizations and simplification introduced by Decree No. 9,423/18, which ratified the open skies agreement, the competitiveness between Brazilian and American airlines and the number of flights between both countries should intensify. It is expected that similar new agreements will be signed between Brazil and other nations, accelerating the progress of other agreements which are currently going through the National Congress or awaiting presidential decree.
Areas of expertise
Stay in touch
Get first-hand access to legal analysis from our specialists in different sectors through texts and podcasts. Stay on top of the main issues that impact your business.